The House of Lords Constitution Committee, chaired by Baroness Taylor of Bolton, is conducting an inquiry into the governance of the United Kingdom. The inquiry will focus on how power can best be shared within the UK to establish stable and effective governance arrangements throughout the UK for the 21st century.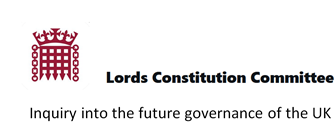 The Committee invites interested organisations and individuals to submit evidence to the inquiry and welcomes written submissions on any aspect of this topic, particularly on the following questions:
1. Is the current balance of powers within the UK optimal or does power need to be shared differently?
2. What are the current challenges for multi-level governance in the UK and how can these be addressed?
3. Should there be a greater degree of devolution within England and, if so, how should these arrangements relate to the UK as a whole?
4. How well understood in its constituent parts is the UK's common purpose and the collective provision it makes? And what impact does this have on democratic accountability?
5. How can the existing constitutional arrangements regarding the governance of the UK be made more coherent and accessible, or should the overall structure be revisited?
6. How effective are the current funding arrangements for the UK and to what constitutional implications do they give rise?
Yorkshire Devolution Movement has been interacting with the Yorkshire people and others in respect of these kinds of matter since 2012 so we understand the views of our Members regarding them and on their behalf, we intend to submit evidence to the Lords Constitution Committee for this Inquiry.