In line with Ofcom's PEB rules, to qualify for one PEB in one of the four home nations, a registered political party must stand candidates in a minimum of one sixth of the seats being contested in that nation. There are 4,357 Local Election seats in England being contested on 5th May 2022. This means that a party must stand candidates in at least 726 of those seats in order to qualify for a PEB in England.
The problem here is that, whilst this rule might be fine for parties which operate at national level, it discriminates against parties which operate at regional level. Even in the whole of Yorkshire, where more Local Election seats are being contested than other regions in which a regional party operates, the total number of seats being contested is less than half of the number of seats required to qualify for a PEB. This means that the only way the regional party for Yorkshire, the "Yorkshire Party", could qualify for a PEB in the Local Elections is if they stood candidates in more seats OUTSIDE Yorkshire than there are available for them to contest within Yorkshire! And the situation for parties like "Mebyon Kernow" of Cornwall or "The North East Party" of Northumberland & County Durham, is even more dire!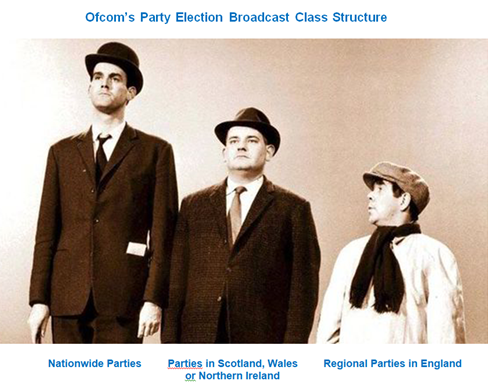 This "one-sixth" rule also applies to General Elections. So, as there are 533 Parliamentary Seats in England, a party needs to stand in at least 89 of them to qualify for a PEB in England. Again, this rule discriminates against the currently registered regional parties as, even if they stood in every single seat within their respective regions, none would contest sufficient seats to qualify for a PEB. Further, as there are 59 Parliamentary Constituencies in Scotland, 40 in Wales and 18 in Northern Ireland, parties only need to stand in 10, 7 and 3 seats, respectively, in order to qualify for a PEB in those nations. If Yorkshire Party happened to be Scottish, The North East Party, Welsh, and Mebyon Kernow, Northern Irish, all three parties would easily qualify for a PEB. So not only does this rule discriminate against these parties within England for being regional parties instead of national, it also discriminates against them within the UK for being English regional parties instead of Scottish, Welsh or Northern Irish!
An election can be described as a competitive event in which the competitors are the political parties standing to be elected. As in the case of any competitive event, the applicable rules are supposed to ensure fairness to all competitors. Rules that discriminate against specific competitors clearly fail to ensure such fairness and are therefore not fit for purpose. In summary, the current Ofcom rules on qualifying for PEBs, by discriminating against English regional parties on two counts, are unfit for purpose and must be changed as a matter of electoral reform!
See our previous News & Blog article on this issue here.