The Yorkshire Society invited all organisations with an interest in the heritage of Yorkshire to participate in a special summit in Pontefract on 23rd March. The Summit was hosted in partnership with Pontefract Civic Society in the 18thC buildings of Pontefract Town Hall.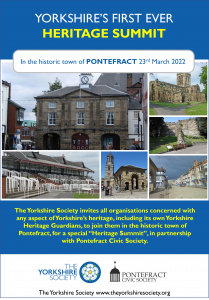 The objective of the Summit was to raise the profile of Yorkshire Heritage and to create a better understanding of its importance. Of course, if the County of Yorkshire had her own devolved government, there would be a budget specifically dedicated to that objective, to conserving and furthering the culture, history, dialect, identity and all things that make up Yorkshire's rich heritage. That is why, until Yorkshire does have such devolution, this initiative is so important.
The Govt would not support the "One-Yorkshire" devolution proposal submitted in 2018, despite it being agreed by Leaders of 19 Local Government authorities in Yorkshire, and despite expert independent analysts reporting that it would bring an additional £30bn to the economy, so it is very encouraging to see, in respect of at least this matter, "Yorkshire Doing it for Ourselves"!
The Summit aimed to:
Bring as many existing regional and local Yorkshire Heritage Guardians and potential Guardians together as possible in a face to face situation to encourage an exchange of ideas, feedback on the HG concept, networking between groups, sharing of current problems and opportunities facing voluntary groups in Yorkshire post-Pandemic and to suggest solutions and new ways forward.
Visit a particular location in Yorkshire and share insights into the ways that one Yorkshire Heritage Guardian and Civic Society is responding to these challenges whilst celebrating a unique part of Yorkshire's local and natural history and sense of place.
The agenda included:
Presentation by Colin Speakman, Vice Chair of PLACE Yorkshire, on Yorkshire's special identity & cultural heritage and how the story of the place in which we live helps us to understand who we are.
Presentation by Tim Barber of Yorkshire Association of Blue Badge Guides, on how heritage relates to the business of tourism and the major contribution made by Yorkshire's rich cultural heritage to the region's tourism success.
Presentations by Rachel Bice, CEO of Yorkshire Wildlife Trust, on local wildlife as a part of Yorkshire's cultural heritage.
Debate on issues related to Yorkshire's heritage, past, present and future – for the purpose of agreeing common aims and objectives related to the promotion of heritage in Yorkshire.
Yorkshire Heritage Fair – Heritage related books, literature, ideas and displays from all over Yorkshire.
The Pontefract story and tour of the historic Town Hall & Pontefract's historic town centre, guided by Pontefract Civic Society.
A post-event article on the Summit can be seen via the link below:
Yorkshire's First Heritage Summit reveals the importance of organisations working together